DAY CAMP
Merriwood Christian Camp offers a
Lower Elementary Day Camp

program (specifically designed for the rising 1st through 4th grader).
The Lower Elementary Day Camp is a great opportunity for children to begin experiencing summer camp! Throughout the week the campers will stay with their small groups. Each morning consists of an interactive morning chapel (with childrens' songs and a Bible lesson), snack time, two activity sessions, and lunch. Each afternoon consists of some down time in the cabin after lunch, pool time, canteen, and an additional two activity sessions.  Throughout the week, the activity sessions include: hayrides, fishing, paddle boats, swimming, nature trail walks, kickball, craft times, playground, and more!
Rate Includes: Morning snack, lunch, take home crafts, tie dye t-shirt, and all the activities listed here.
Our capacity for this week is 88 girls (8 groups) and 88 boys (8 groups). Even though it's a day camp program, the campers will have a "home base" cabin to house their backpack throughout the day, for down time after lunch, and for changing before and after pool time.
Arrival: Drop off Monday through Friday is 8:30 and 8:45 am. Programming begins at 8:45 am. (No early arrivals please.)
Pick up: Pick up time is 4:30 pm. More specific details will be provided after you register. (No early pick ups will be permitted within the last hour of the day. If you absolutely must pick up a child early, please call the office or email at least 24 hours out, so MCC can make arrangements and let you know the process for early pick up. MCC can only arrange pick ups between activity transition times.)
Optional Friday Overnight: For rising 2nd graders through rising 4th graders, there is an optional overnight stay Friday night through Saturday morning. Programming continues from Friday at 4:30 pm through Saturday morning at 9:00 am. (Pick up is in the chapel/gym.)   The overnight stay includes games, supper Friday night, campfire, songs, cabin overnight experience, and breakfast Saturday morning. The additional cost for the overnight stay is $40. Pre-registration is available online during registration or online through Tuesday at midnight of their camp week. More details will be sent out by email to those registered during their camp week.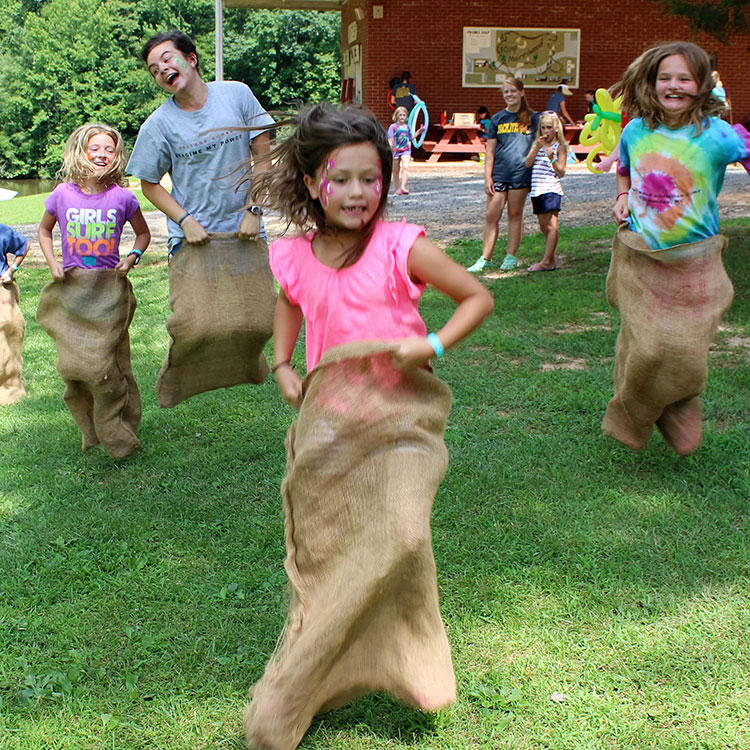 2024 DAY CAMP WEEKS

Online summer camp registration for 2024 will open 11/01/23 for the 2024 season.  At that time, the system will allow you to register each child for ONE week of camp. If there are still spaces available come 3/1/24, the system will then allow you to confirm a second week.
DAY CAMP DETAILS (for LOWER ELEMENTARY)
Arrival:  Drop off time is 8:30-8:45 am daily. (More details with specifics will be provided via email to registrants as time nears.)
Departure: Pick up time is 4:30 pm daily.
Days: Monday through Friday
Grades: Rising 1st-4th Graders
Rate: TBD/week
Dates: 
– 1st Day Camp (for Lower Elementary) – June 10-14, 2024
– 2nd Day Camp (for Lower Elementary) – July 1-5, 2024 (Yes! We still run camp like normal on July 4th!)
* Please check your school, sports, and personal vacation calendar before registering.  Refunds will not be given for campers who have signed up for a week and then choose to cancel based on a schedule conflict. Transfers will be permitted if there is availability in a different week for a  $25 transfer fee. 
Payments:  A non-refundable, non-transferable deposit of $75 is required to reserve your child's space in a camp week. The remaining camp fees are due two months before your camp week begins. If you are unable to pay your balance two months prior to camp, please contact the registrar to request a payment extension.
Refunds/Transfer Policy: Please check your school, sports, and personal calendar before registering for a camp week. Refunds will not be given to those who register for a camp week and then cancel due to a schedule conflict. If the reservation is canceled more than two months prior to the camp week, all fees paid other than the $75 deposit will be refunded.  If the reservation is cancelled less than two months, but more than one month before the camp week, 50% of the fees paid will be refunded, less the $75 deposit. If the camp week is canceled less than one month prior to the camp week, no refund will be given. Some exceptions may be made if there is a medical emergency or a death in the immediate family.  (Verification may be required before a refund is processed.) Final payments not made within one month of the start date will be assessed a $25 late fee and/or may result in forfeiting the camper's space.  Transfers from one week to another are allowed as long as space is available. A $25 Transfer Fee will be assessed. Camper cancelation insurance now available. See details in online registration portal.
EXCEPTIONAL NEEDS?  Before registering, please call 336-766-5151 or email Hannah at office@campmerriwood.net so we can send you an electronic Exceptional Needs application.
LIFE THREATENING ALLERGY OR SPECIAL DIET?  Please call 336-766-5151 or email Hannah at office@campmerriwood.net to discuss any major life threatening allergies and so we can send you a Life Threatening Allergy Form or Special Diet Form (if non-life threatening).