DAY CAMP
Merriwood Christian Camp offers a
Lower Elementary Day Camp

program (specifically designed for the rising 1st through 4th grader).
The Lower Elementary Day Camp is a great opportunity for children to begin experiencing summer camp! Throughout the week the campers will stay with their small groups. Each day consists of an interactive morning chapel (with childrens' songs and a Bible lesson), pool time, four additional activity sessions, and canteen time. Throughout the week, the activity sessions include: hayrides, fishing, paddle boats, swimming, nature trail walks, kickball, craft times, playground, and more!
Rate Includes: Morning snack, lunch, take home crafts, tie dye t-shirt, and all the activities listed above.
Our capacity for this week is 88 girls (8 groups) and 88 boys (8 groups). Even though it's a day camp program, the campers will have a "home base" cabin to house their backpack throughout the day, for down time after lunch, and for changing before and after pool time.
Arrival: Drop off Monday through Friday will be approximately between 8:30 and 8:45 am. Programming begins at 8:45 am. (No early arrivals please.)
Pick up: Pick up will be approximately 4;30 pm. More details about pick up will be provided as time nears.
Optional Friday Overnight: For rising 2nd graders through rising 4th graders, there is an optional overnight stay Friday night through Saturday morning. Programming continues from Friday at 4:30 pm through Saturday morning, pick up at 9:00 am in the gymnasium.  The additional cost for the overnight stay is TBD. The overnight stay includes games, supper Friday night, campfire, songs, cabin overnight experience, and breakfast Saturday morning. Pre-registration is available online during registration or online through Tuesday at midnight of their camp week. More details will be sent out by email to those registered during their camp week.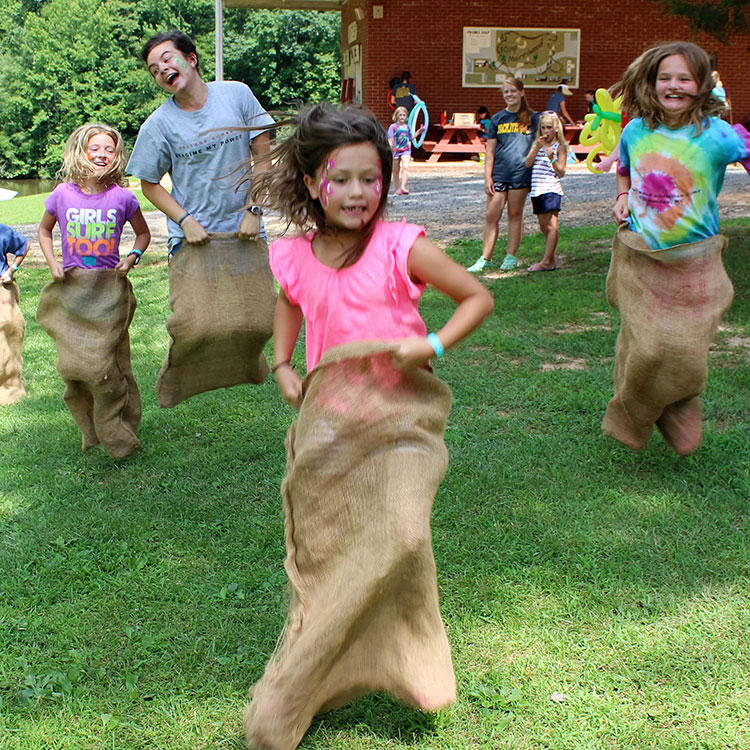 2022 DAY CAMP WEEKS

Online registration Summer Camp 2022 is now live! Register today! ** At this time, the system will only allow a camper to sign up for one week per child. On March 1st, 2022, the system will allow campers to register for a second week.

This page last updated 11/29/21.
DAY CAMP DETAILS (for LOWER ELEMENTARY)
Arrival:  Drop off time will be approximately 8:30-8:45 am daily. (More details with specifics will be provided via email to registrants as time nears.)
Departure: Pick up time will be approximately 4:30 pm daily. (More specifics will be provided via email to registrants as time nears.)
Days: Monday through Friday
Grades: Rising 1st-4th Graders
Rate: $265/week
Dates: 
1st Day Camp (for Lower Elementary) – June 13-17, 2022 – Full for GIRLS. Waiting list available through online portal.  (Nearing full for Guys as of 11/29/21.)
2nd Day Camp (for Lower Elementary) – July 4-8, 2022
* Some surrounding county schools may have school into the 1st Day Camp week for lower elementary.  Please check your school calendar closely as refunds will not be given for campers who have signed up for a week and then choose to cancel based on school schedule. Transfers will be permitted if there is availability in a different week for a  $25 transfer fee. 
Optional Overnight Stay for Lower Elementary Day Camp
There is an optional overnight stay on the Friday night of the Lower Elementary Day Camp Week for rising 2nd, 3rd, and 4th graders for an additional fee. The program continues from Friday at 4:30 pm through Saturday at 9:00 am.  Sign up is available when you register online or they can register online until Tuesday night at midnight of their camp week. Specifics for those signed up will be sent by email their week of camp.