TEEN WEEK
Merriwood's Teen Week is one of a kind. It's designed for the rising 10th grader through rising college freshman.
Our Teen Week is one of a kind! During this 7-day, 6 night program, campers will have the opportunity for positive, co-ed interaction through being grouped in co-ed teams for some activities. Campers will work together to analyze problems and situations, thereby establishing personal standards of conduct based on God's Word.
Highlights of the week include Tuesday Expedition Day, Camper/Staff volleyball and basketball games, the Thursday Event, and team competitions.
Expedition Day:  Rising 10th graders will choose from a day hike and picnic lunch at Hanging Rock State Park OR a 17 mile scenic bike ride down the VA Creeper Trail. Rising 11th graders and older can choose from the day hike, biking, or go White Water Rafting on the New River in West Virginia. Hiking is an additional fee of $10.  The VA Creeper Trail trip is an additional fee of $50. White water rafting is an additional fee of $80.  More details on this are available in the registration process. (Those signing up for biking should be experienced riders and able to successfully and safely ride a bike.)
We are confident that our co-ed, residential, Teen Week will train campers how to live like Christ in their communities and encourage them in their faith as they face the year ahead.
Camp Store: MCC's store will be open during at different times throughout the camp week as well as at drop off and pick up.
OVERNIGHT CAMP DETAILS will be available as time nears with more information concerning what to bring, dress code, camper/parent communication, online camp bank, online photo gallery, lost and found, and other policies.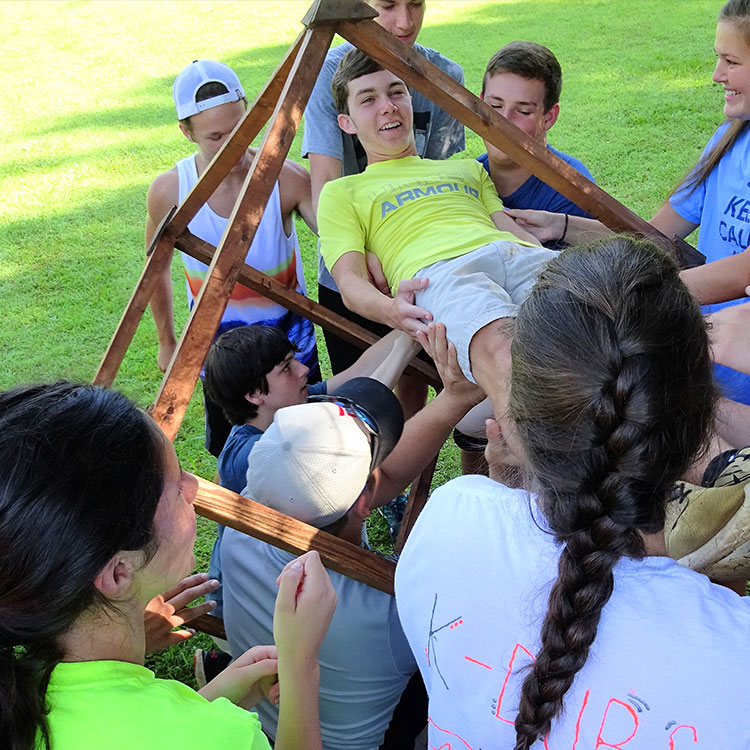 2024 TEEN WEEK

Online summer camp registration for 2024 will open 11/01/23. Please note that Teen Week spaces fill fast, usually within the first day. Waiting lists will appear long, but if you are able to wait, many will get a call-back to accept a spot by spring or early summer.
GRADES: For rising 10th-rising College Freshmen
ARRIVAL:  Sunday afternoon between 4:00-5:00 pm. (MCC is not able to accommodate early arrivals.)
DEPARTURE: Saturday morning, 9:30 am
RATES: $TBD  (Expedition Day choices carry an additional fee: Hiking $; Biking $$; Rafting $$$)
DATES:  July 7-13, 2024 (Sunday to Saturday) –  Click here for waiting list details.
PAYMENTS:  A non-refundable, non-transferable deposit of $75 is required to reserve your child's space in a camp week. The remaining camp fees are due two months before your camp week begins. If you are unable to pay your balance two months prior to camp, please contact the registrar to request a payment extension.
REFUNDS/TRANSFER POLICY: Please check your school, sports, and personal calendar before registering for a camp week. Refunds will not be given to those who register for a camp week and then cancel due to a schedule conflict. If the reservation is canceled more than two months prior to the camp week, all fees paid other than the $75 deposit will be refunded.  If the reservation is cancelled less than two months, but more than one month before the camp week, 50% of the fees paid will be refunded, less the $75 deposit. If the camp week is canceled less than one month prior to the camp week, no refund will be given. Some exceptions may be made if there is a medical emergency or a death in the immediate family.  (Verification may be required before a refund is processed.) Final payments not made within one month of the start date will be assessed a $25 late fee and/or may result in forfeiting the camper's space.  Transfers from one week to another are allowed as long as space is available. A $25 Transfer Fee will be assessed. Camper cancelation insurance now available. See details in online registration portal.
EXCEPTIONAL NEEDS?  Before registering, please call 336-766-5151 or email Hannah at office@campmerriwood.net so we can send you an electronic Exceptional Needs application.
LIFE THREATENING ALLERGY OR SPECIAL DIET?  Please call 336-766-5151 or email Hannah at office@campmerriwood.net to discuss any major life threatening allergies and so we can send you a Life Threatening Allergy Form or Special Diet Form (if non-life threatening).