JUNIORS
MCC's Junior Week is co-ed, for rising 4th through 6th graders, and is structured and action-packed!
JUNIOR OVERNIGHT CAMP WEEK (for rising 4th-6th graders):
From the time the Junior camper arrives on Monday morning until they depart on Friday (5:00 pm), they will experience a week like never before. Our commitment to small groups allows counselors to get to know their campers individually.  Dedicated counselors will lead their cabins in various challenging and rewarding activities that will help instill teamwork, cooperation, and group appreciation. Overnight campers will stay in our brick cabin buildings, which are equipped with a window air conditioning unit. Each cabin will have up to 10 campers plus the college-aged counselor.
Activities campers will experience throughout the week: flag raising, silly morning exercises, personal quiet time, team building activities, morning chapel, pool time, cabin v/s cabin recreation games (kick ball variations, gaga, soccer arena games, playground), 48 foot climbing wall, skits performed by MCC team, campfires, paddle-boating, swim competition, canteen, large group game (with cohorts) in the evening and Water Game Day (water trampoline, BLOB, water obstacle course).
Skills Classes: Campers will choose skills classes on Monday morning after orientation.  Some of the skills classes include: fishing, riflery, archery, canoeing, model rocketry, outdoor cooking, outdoor survival, various crafts, box car making & racing, acting, sling shots, basketball, soccer, volleyball, and more.  Campers will get two classes, that they will attend daily.
Camp Store and Canteen: MCC's store will be open during the week for campers to visit. MCC's canteen will be open once in the afternoon and once in the evening.
OVERNIGHT CAMP DETAILS will be available online as time nears concerning what to bring, camper communication, online camp bank, online photo gallery, dress code, lost and found, and more.
There will not be a Junior Day Camp in 2023. All Junior Weeks will be overnight, Monday morning through Friday afternoon.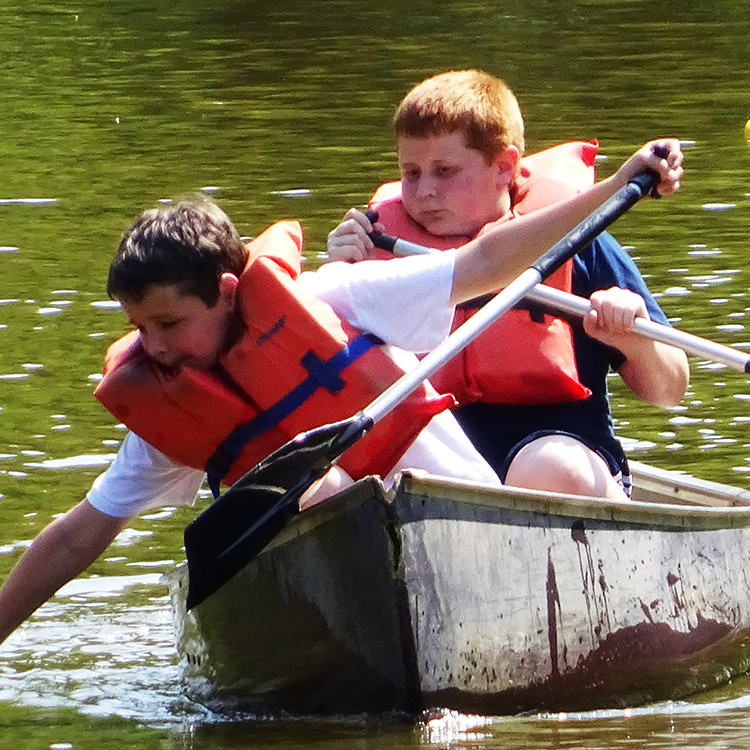 2024 JUNIOR WEEKS

Online summer camp registration for 2024 will open on 11/01/23.  At that time, the system will allow you to register each child for ONE week of camp. If there are still spaces available come 3/1/24, the system will then allow you to confirm a second week.
DATES:
1st Junior Week – June 17-21, 2024
2nd Junior Week – July 15-19, 2024
3rd Junior Week – August 5-9. 2024
ARRIVAL: Check in is Monday morning between 10:00-11:00 am. (We cannot accommodate early arrivals.)
DEPARTURE: Departure is Friday afternoon, 5:00 pm (with the option to attend the closing ceremony/awards about 4:15 pm Friday).
DAYS: Monday morning through Friday afternoon. All Junior Weeks are overnight programs.
GRADES: Rising 4th-6th graders
RATE: $TBD
DETAILS: Junior Week is co-ed, overnight, for upper elementary students, rising 4th graders through rising 6th graders. See details to the left please. If questions, feel free to call the office at 336-766-5151 or email us at office@campmerriwood.net.  FYI: All Junior Weeks are overnight programs. There is not a day camp option once the camper is a rising 5th grader.
PAYMENTS:  A non-refundable, non-transferable deposit of $75 is required to reserve your child's space in a camp week. The remaining camp fees are due two months before your camp week begins. If you are unable to pay your balance two months prior to camp, please contact the registrar to request a payment extension.
REFUNDS/TRANSFER POLICY: Please check your school, sports, and personal calendar before registering for a camp week. Refunds will not be given to those who register for a camp week and then cancel due to a schedule conflict. If the reservation is canceled more than two months prior to the camp week, all fees paid other than the $75 deposit will be refunded.  If the reservation is cancelled less than two months, but more than one month before the camp week, 50% of the fees paid will be refunded, less the $75 deposit. If the camp week is canceled less than one month prior to the camp week, no refund will be given. Some exceptions may be made if there is a medical emergency or a death in the immediate family.  (Verification may be required before a refund is processed.) Final payments not made within one month of the start date will be assessed a $25 late fee and/or may result in forfeiting the camper's space.  Transfers from one week to another are allowed as long as space is available. A $25 Transfer Fee will be assessed. Camper cancelation insurance now available. See details in online registration portal.
EXCEPTIONAL NEEDS?  Before registering, please call 336-766-5151 or email Hannah at office@campmerriwood.net so we can send you an electronic Exceptional Needs application.
LIFE THREATENING ALLERGY OR SPECIAL DIET?  Please call 336-766-5151 or email Hannah at office@campmerriwood.net to discuss any major life threatening allergies and so we can send you a Life Threatening Allergy Form or Special Diet Form (if non-life threatening).